Mobisafer - mobile tracker app
Mobisafer is a free mobile tracker app that can back up all important data from your phone automatically and remotely.
Mobisafer track and records Calls, SMS, Phone locations, WhatsApp, Facebook, Telegram, Instagram messages and many more. Which can also be used as a parental control mobile tracker app.
Advanced

Features
Explore Mobisafer Features
Setup your profile
Make a free account with mobisafer mobile tracker app with your email address.
Install the App
Download the file on your child's mobile device from the browser. Click on allow the download, give all required permission to the app.
Enjoy the features!
Now you can log in to the mobisafer website on your phone or laptop and access the complete data of the phone.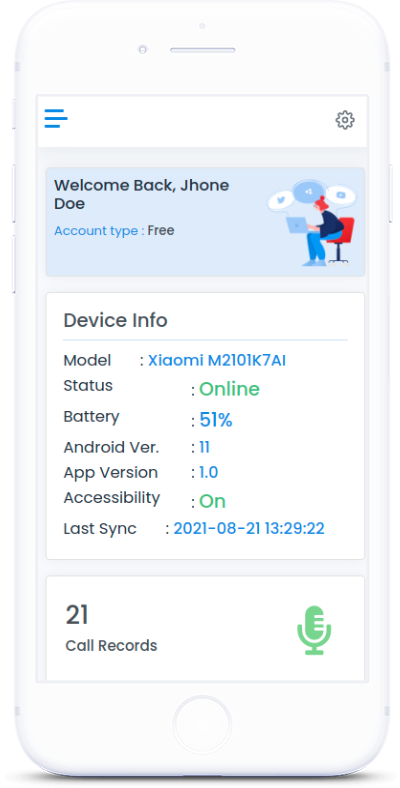 Why choose Mobisafer?
✓

Application is completely hidden on the phone, which will help you to track the complete without a trace.

✓

Children will not know that you have installed mobisafer, unless you tell them. Hence, kids will not feel bad that you are tracking or hide anything from the mobile.

✓

No ads or pop-ups in mobisafer, which makes it the safest in the market.

✓

Recorded Data is stored in a secure, online cloud. Information transfer and storage is secured with AES Encryption (Advanced Encryption Standard) and SSL (Secure Socket Layer) techniques and technologies.

✓

Data syncs between mobile and app more frequently to be at the top of mobile tracking.

✓

Minimal and easy installation procedure.

✓

Track your kid's phone from anywhere in the world.

✓

Free download and install to try out the features and process.
Sign Up Now
Is it safe to use mobisafer?
Data stored can be viewed or deleted only by the admin of the mobisafer account used to install the application.

No pop-ups whatsoever, as mobisafer is completely hidden from the user.

Mobisafer does not carry any adware or malicious software as we do not depend on ads but the service we render.

Data is saved entirely encrypted, and it is decrypted only when you logins to the account.
Sign Up Now